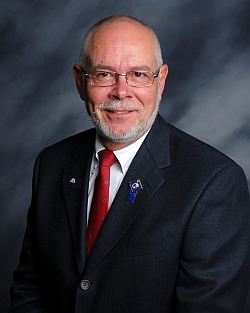 District Governor
Terry Titus
2011-2012
(click on photo to enlarge)

About Terry Titus
"Terry was the Charter President of the Yadkinville Rotary Club and served as Assistant Governor of Area 1 from 2000-2006. Terry is a multiple Paul Harris Fellow, Benefactor, member of the Bequest Society, Major Donor and Paul Harris Society Member. In his club, he received The Service Above Self award in 2005-2006 and Rotarian of the Year in 2006-2007. He was originally introduced to Rotary in 1998 by Clemmons Rotary Club members Terry Alexander and Don Angell. He was immediately impressed by the potential impact this professional organization could have on the community and the world as a whole. Terry is the proud father of Ashley P. Titus, a current honorary member and past President of the Yadkinville Rotary Club.
"Terry retired in 2008 after fourteen years as Owner and President of Titus Construction, Inc. Terry is a third generation contractor and officially entered the industry in 1973, while attending Wake Forest University. He was a recipient of a ROTC scholarship to Wake Forest University and is still a supporter of his beloved Demon Deacons.
"Although born and raised in Mullica Hill, N.J., Terry has called North Carolina his home since moving here to attend college. Terry's community involvement began as a young man when he began work earning the rank of Eagle Scout; he is still involved in scouting through the Old Hickory Council with Troop 655 of Yadkinville. He has served as both Junior and Senior Warden on the Vestry of Galloway Memorial Episcopal Church of Elkin, NC and enjoyed singing in the church choir for many years. Terry has enjoyed serving his local community as Past Master of the Yadkin Masonic Lodge #162 AF & AM. He was the Charter President of the Yadkin County Chamber of Commerce. He served on the Board of Directors of the Yadkin Valley Economic Development District, Inc. (YVEDDI) for 7 years. He also served two terms on the Central Carolina Bank Board of Directors.His mother, Marie P. Titus, resides in Yadkinville. His brother, Keith R. Titus, lives in Portland, Oregon; near his son Nick Titus and daughter-in-law, Julie. Terry and his partner, Rhonda Fleming, met in church and enjoy entertaining family and friends."
Terry P. Titus
2224 Old US Hwy. 421 East
Yadkinville, NC 27055
Home: 336-961-3186
Email: TerryTitus@Rotary7690.org
Club: Yadkinville
Member since: 06/27/98
Birthday: 05/27