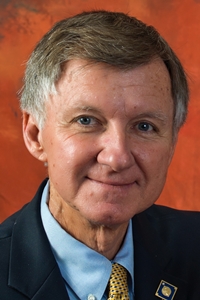 District Governor
Rick Snider
2012-2013
(click on photo to enlarge)

About Rick Snider
Rick was born and grew up in Lexington, NC. He graduated from North Carolina State University in 1969 and began a 20 year career with a subsidiary of Eastman Kodak. While with Eastman, he worked in various marketing management positions in Tennessee, North Carolina, New York, and Georgia.

Rick and Linda left Atlanta, Georgia in 1989 to embark on an eight year real estate career in Emerald Isle NC, owning and operating a real estate sales and property management company.

In 1997 Rick and Linda joined Mercy Ships and lived onboard the Caribbean Mercy for 5 years, ministering to the poor and needy in Central America and the Caribbean basin. Mercy Ships is a global charity that utilizes hospital ships to bring hope and healing to the forgotten poor. Linda was the Director of HealthCare Services on the ship and Rick was the Program Officer responsible for outreach ministries.
Rick met firsthand the good work of Rotary in 1999 when he and Linda were Mercy Ships volunteers in Central America. A small Rotary Club in Honduras was leading a community effort to develop a relocation community for evacuees from Hurricane Mitch, which had devastated the region the previous year; and Mercy Ships partnered with this small Rotary Club to develop a water and sanitation system for the community.

With this Rotary experience as a springboard, Rick joined Rotary in 2002 when he and Linda left their 8x8 cabin on the Mercy Ships to return to the place of Rick's birth. Rick joined the Rotary Club of Lexington where he has served two terms as Club President, Foundation Chair, Projects Chair, and currently serves as Club Secretary. He and Linda are Paul Harris Fellows and Rick is a member of the Paul Harris Society.

Rick and Linda live in Lexington NC where Linda is on staff with Mercy Ships as Regional Development Officer for the Southeastern United States. In her spare time Linda is an avid gardener, and Rick enjoys the "fruits of her labor". Rick also enjoys golf, tennis, fishing, and a fast paced basketball or football game with his 10 year old grandson. Rick and Linda have two married sons and 2 grandchildren.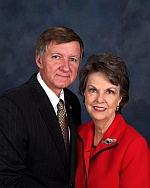 Rick Snider (Linda)
3033 W. Center St. Ext.
Lexington, NC 27295-5563
Home: 336-249-4502
Office:
Cell: 336-250-9573
Fax Number: 336-249-6185
Email: RickSnider@Rotary7690.org
Club: Lexington
Member Since: 11/26/2002
Birthday: 09/18
Anniversary: 02/12
Classification: Non-Profit Marketing