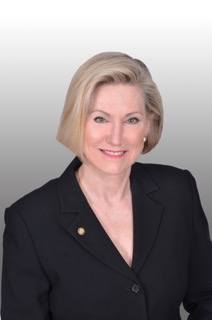 District Governor
Claudia Cannady
2018-2019
(click on photo to enlarge)

About Claudia Cannady
Although Claudia grew up in many places – Chicago, Michigan, Toronto and Southern California—she considers North Carolina home. She received her Bachelor of Science from High Point University and Master of Arts from University of North Carolina Greensboro.
In her early career, she was in marketing and sales promotion with consumer products companies Hanes and Kayser-Roth and then launched, what became, a 30-year career in financial services. Retiring as Senior Vice President at Morgan Stanley Wealth Management in 2017, Claudia now continues a post-retirement and rewarding Rotary journey.
Claudia has been an active community citizen in Greensboro. She has served on the board of directors of Multiple Sclerosis Society of Central North Carolina, Make-A-Wish Central and Western North Carolina, The Music Academy of North Carolina and Bel Canto Company. She is an avid supporter of United Way of Greater Greensboro, Arts Greensboro, Urban Ministry and The Community Foundation of Greater Greensboro.
Although Claudia joined Summit Rotary in 1998, she became a Rotarian in 2005 by way of being club International Service chair and District Grants committee member. She was Summit Rotary Club President 2009-2010, District Foundation Advocate 2012-2014 and Assistant District Governor 2014-2016. She passionately supports Our Rotary Foundation and has participated in various international Rotary activities in Haiti, England, India, France, Taiwan, Thailand, Russia and Ethiopia. She believes in "giving to make a difference" to Our Rotary Foundation. She is a Major Donor, Benefactor, member of the Bequest Society and Paul Harris Society and is on her way to join the Arch Klumph Society.
Claudia was embraced by her Rotary family when her husband, whom she met at Summit Rotary, passed away in 2015. With a heightened sense of the true meaning and value of Rotary in a deeply personal yet communal way, she is happy to share all things Rotary with fiancé Frank Cheney, architect, avid golfer and father to Catherine and Ben. Claudia likes to hike, read and go to the movies. When not golfing or hiking or traveling, Claudia and Frank are walking their Rotary journey together.
Claudia Cannady
5409 Eastern Shore Dr.
Greensboro, NC 27455
(336) 312-2334 (c)
(336) 855-0290 (h)
ClaudiaCannady@Rotary7690.org