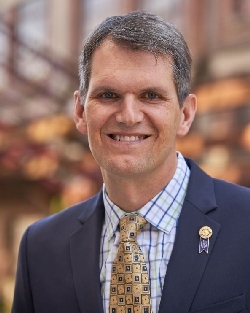 District Governor
Chris Justice
2021-22
(click on photo to enlarge)

About Chris Justice
Chris grew up in Wilmington, NC graduating from New Hanover High School. After high school, he served in the Army for three years. Chris went on to earn his Bachelor of Science degree in Accounting from the University of North Carolina at Wilmington. He then earned his law degree from the University of Baltimore and was admitted to the North Carolina State Bar in 1999.

Chris and his wife Stephanie live in Summerfield NC where they raise their five children, three dogs, chickens, and the cat. Stephanie is a real estate broker with the Justice Group and runs a successful real estate business in the Triad area. Both are very active in the community. The children have been bitten by the Rotary bug and participate in service projects. Caley attended the Rotary Youth Leadership Program in the summer of 2018 and Gavin in 2019.

Chris built his first law practice into a successful mid-sized firm practicing in multiple areas of law and locations. In 2012, he sold his interest in that firm, then opening a smaller firm where he currently practices law. The Justice Law Group primarily focuses on residential real estate matters. Chris occasionally takes on larger profile civil and criminal cases. The smaller sized practice has given him the ability to focus more on service-related activities.

In 2008, Chris joined the Gate City Rotary Club. He has been the Sergeant at Arms, Club Administrator, Club Secretary, Fundraiser Chair, Speaker Coordinator, and Club President. Gate City continued its Gold Club streak during Chris's year as President in 2016-2017. Chris has worked over the past few years to grow and organize Gate City's scholarship fund that awards a $10,000 annual scholarship. He also started Gate City's Toys for Tots program that is run in coordination with the Club's annual Christmas breakfast. Chris continues to support many of Gate City's projects as well as other projects championed by the members of Gate City. Chris is a Major Donor and supports our Rotary Foundation's efforts.

Community involvement has always been a family focus. Chris is a founding member of a group that started a school for children with Autism in Greensboro. Lionheart Academy of the Triad was born in 2012. Chris's son Curran was in the school's first graduating class in 2020. Much of Chris's service has been focused around youth. He served on the Guilford County Juvenile Crime Commission Counsel for many years and has also been a steady volunteer as a judge for the Guilford County Teen Court program. He continues to serve with a local not for profit that has donated more than $140,000 to the athletic programs of local schools over the last 12 years.

Chris and Stephanie's children are all very active and keep the family busy most days. In his spare time, Chris enjoys politics, trail running, cycling, and restoring old arcade cabinets and pinball machines.