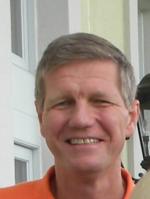 District Governor
Van Lankford
2023-24
(click on photo to enlarge)

About Van Lankford
Van Lankford is a native of North Wilkesboro, NC. He is a graduate of Gardner Webb University, Southeastern Seminary (Master of Divinity), and Union Theological Seminary in Richmond, where he earned his Doctor of Ministry degree in 1997.
Van served in pastoral ministry for 23 years and served churches in Wadesboro, Dobson, and Mocksville. In 2011, he made a career change and founded the franchise office of Home Instead in Mount Airy, which serves senior adults in Surry and Stokes counties with their activities of daily living.
Van's Rotary story began in February 2001 when a neighbor and retired dentist invited him to his first Rotary meeting. Later that year, he joined the Rotary of Club of Mocksville. He served the Mocksville club in many capacities and in 2010-2011 served the club as President. During his tenure, the Mocksville club became the 13th club in the district to become a Triple Crown club. In July of 2011, when he was starting his new business in Mount Airy, Van joined the Rotary Club of Mount Airy. He served the Mount Airy Club as Foundation Chair, Polio Plus Chair, and in 2014-2015 he served as club President. Van has also been active in District 7690 serving two terms as a Foundation Advocate, the District Conference Committee, and serving Area 1 as an Assistant Governor from 2018 – 2021. He is a Paul Harris Fellow, Sustaining Member, Benefactor, and a member of the Paul Harris Society.
Van attends and is active at Piney Grove Baptist Church in Mount Airy. He is a member of the Board of Directors of The Shepherd's House homeless shelter in Mount Airy, as well as a board member of the Surry County Arts Council. He is also a volunteer with Surry Medical Ministry and Surry County Meals on Wheels.
Van and his wife Ann have been married since 1989. Ann is a retired educator and is co-owner of the Mount Airy Home Instead office. They have two grown children. Their daughter Molly lives in Mount Airy and is a Labor and Delivery nurse at Hugh Chatham Hospital in Elkin and her husband, Alan Hudson, works for Pepsi Cola. Their son, Evan, lives in Greensboro and is an Account Manager at Flow Automotive in Winston Salem and his wife, Jessie, is a School Psychologist with Guilford County Schools. Van is also "Pawpaw" to one granddaughter, Savannah Brooke Hudson.
In his free time, he enjoys spending time with family and traveling.